Balintawak Arnis Escrima.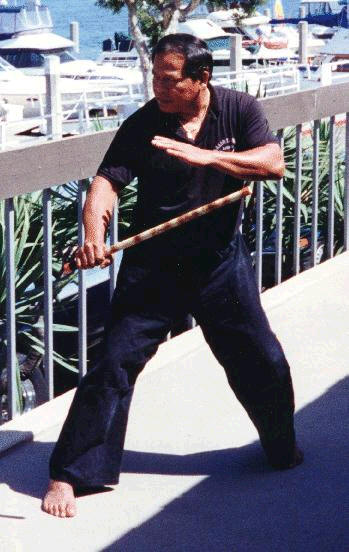 Welcome to the Official Home of Bobby Taboada's World Balintawak Arnis Escrima. Balintawak is a powerful and very fast Filipino Martial Art originally from Cebu City, The Philippines .
Grand Master Taboada, originally from Cebu City, Phillipines, was trained in "old school" ways of stick fighting where the physical abuse one endured in training often exceeded the amount of abuse one experienced during an actual physical confrontation. This combination of extremely rigorous physical training, expert instruction and guidance from the Great Grand Master Venancio "Anciong" Bacon and Grand Masters Teofilo Velez and Jose Villasin, have produced this dynamic, highly-skilled, insightful and caring martial arts practitioner and teacher.
In 1979, Grand Master Taboada left the Philippines and taught his art in New Zealand before relocating to the United States in 1991. He now resides in Charlotte, North Carolina where he operates the headquarters for his Balintawak International organization. Since his arrival in the U.S., he's been a self-defense instructor for the North Carolina Justice Academy and he has assisted in crime prevention programs sponsored by the North Carolina Sheriff's Academy in the U.S. and other countries, such as England, Australia and Canada. In the year 2000, he was inducted into the World Head Council of Family Sokiship's International Hall of Fame and was awarded the title of Millenium Grand Master. In 2002, that same organization honored him with the title of Distinguished Grand Master.
Our Discussion Forums are now ONLINE! Enjoy.